Hello, we are school council members who are dedicated to helping other children be more aware about how to be responsible and stay safe online. We will be discussing E-Safety in our meetings and in class. We will also be delivering mini lessons throughout the year so all of the children in Black Combe School can be awarded our 'E-Safety Excellence' Award. You can support your child with this by helping with the tasks they will be set, throughout the year.
Thank you,
The E-Safety Team
______________________________________________________________
Message from Anne Longfield: The Children's Commissioner for England
'In today's increasingly digital world, it's more important than ever that parents and carers feel equipped to help children develop the resilience, information and power they need to thrive online.
There is no doubt that the internet and social media give children amazing opportunities to learn, to develop new skills, and to keep in touch with friends. However, it is not always clear that the rights that children enjoy offline also extend online.
Terms and conditions for websites, apps and online services are often excessively long and very difficult to understand. This means that many people tick 'I agree' without ever reading the first line of a terms and conditions agreement. Yet buried within these documents is important information about the rights of the companies and the rights of the user.
In order to help parents, carers, teachers and children understand these rights, I have worked with the law firm Schillings, who specialise in privacy law, to produce simplified terms and conditions for Instagram, WhatsApp, YouTube, Snapchat and Facebook– the top 5 platforms used by children and young people.'
Young peoples' rights on social media - Simplified terms and Conditions:
How can you help your child stay safe?
Where do we start?
The internet has changed all of our lives, particularly our children's. For parents and carers this opens up a whole new world of things to be aware of. For many of us, this can all be a bit too much.
You might be struggling to keep up with the things your child is doing online, you might wonder whether what they are doing is safe, and you might also be thinking how can I be as good a parent online as I am offline?
You may have asked yourself some or all of the following questions:
What is my child doing online?
How do I talk to my child about what they're up to online?
What risks might my child face?
What tools are there to keep my child safe?
..Great Tips for Keeping Children Safe Online..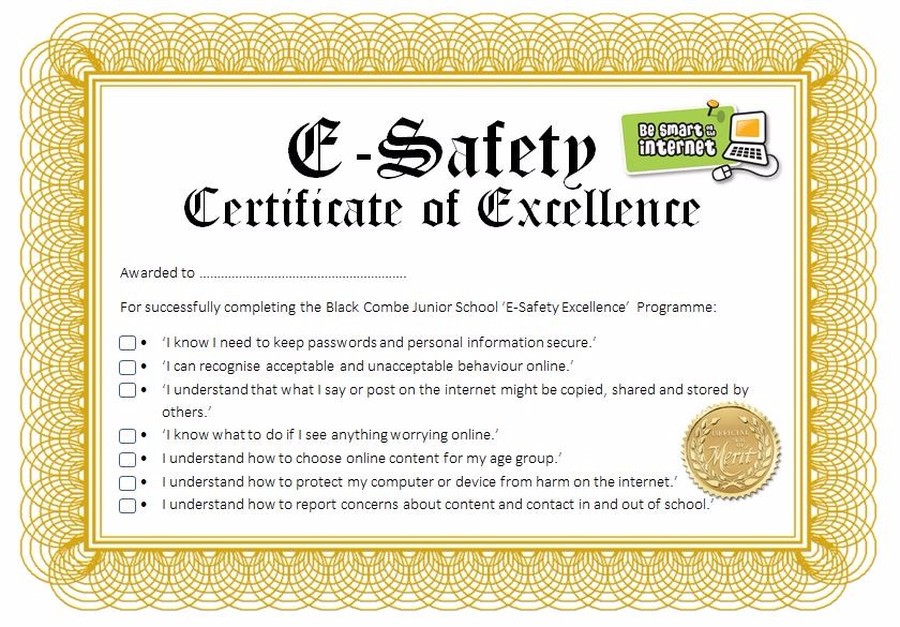 E-Safety Excellence Tasks
______________________________________________________________
Thank you to all the children and parents/carers who joined us on our E-Safety launch day and who took the time to complete E-Safety tasks 1 and 2. We hope you found it a valuable experience, sitting as a family and discussing your own online activity and experiences. The results of the first task are below, for you to see. The E-Safety Team
______________________________________________________________
______________________________________________________________
What a fantastic E-Safety and Computing week we have had. The entire school have been considering the safest way to interact online and have been working together to give advice on online gaming, chat rooms, emails and texts, building online profiles and what to say or do if you feel unsafe. The children did brilliantly and are showing how much they have learned during the E-Safety Excellence projects they completed with their parents/carers. They also set themselves targets, considering what they would change or do differently to be safe.
Click on the picture above to try some of the E-Safety activities yourself.